Blue-GIFT Opens 2nd Call for Applications for Ocean Energy Demonstration
The Blue-GIFT (Blue Growth and Innovation Fast Tracked) project is pleased to announce the 2nd call for applications that will open on the 20th of January 2020. The call will close on the 30th of April 2020 at 17:00 UTC. Applications can benefit from an early assessment if the test plan requires a starting date on Q1 & Q2 2020.
Funded by Interreg Atlantic Area, Blue-GIFT, aims to help Atlantic Area companies test the next generation of Marine Renewable Energy (MRE) technology in real sea environments and prove power can be generated economically from the vast energy source that is the Atlantic Ocean.
Blue-GIFT offers support package vouchers through open access calls to ocean energy companies looking for access to test and demonstration facilities in the Atlantic Area
The result of the first call (22nd April to 6th September 2019) in the Blue-GIFT project has been a success. Nine ocean energy companies were able to trial and validate their technologies in real sea environments.
The nine companies that have been granted Blue-GIFT support for their technologies at the first call were: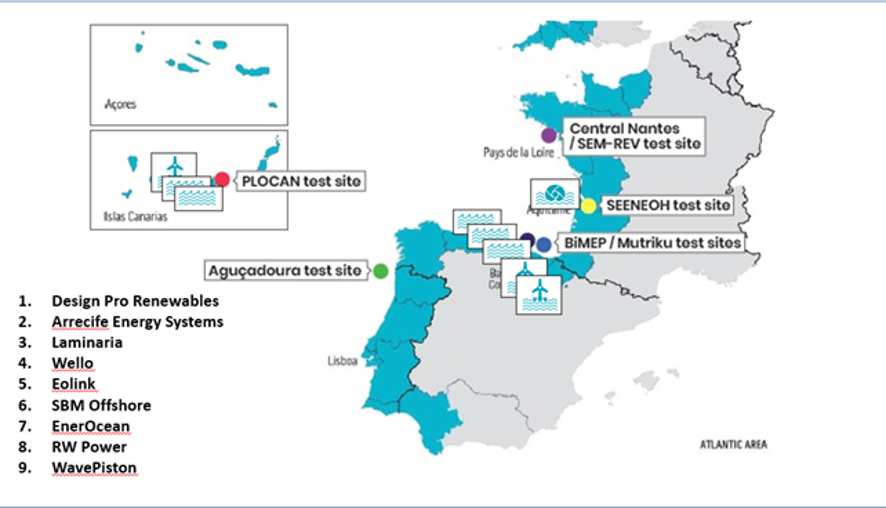 Image Credit: DesignProRenewables, SEENEOH
Silvia Hildebrandt, PLOCAN stated:
"The Blue-GIFT call for applications is a good opportunity for ocean energy technology developers to get subsidised access to a test site. We therefore strongly encourage those developers, who have technologies, products, energy converters or subcomponents ready to be tested in real conditions, to apply to this call."
Dorleta Marina, BiMEP said:
"The BlueGIFT project offers ocean and offshore wind technology developers a matchless opportunity for testing their devices in real sea conditions."
Ruari Brooker, Blue-GIFT project manager at the European Marine Energy Centre (EMEC) said:
"We've had an incredible response to the first call and I strongly encourage companies who are approaching sea trial readiness to approach these sites directly. There is an opportunity here for renewable energy developers to work with some really resourceful and knowledgeable teams to help them progress to the next stage of their development and attract that vital investment at this crucial demonstration stage."
Which test centres can you apply to?
A series of test site access vouchers will be offered to successful applicants to support testing of devices and subsystems at the following test centres:
BiMEP (wave and floating wind) in the Basque Country, Spain;

PLOCAN (wave and floating wind) in Gran Canaria, Spain;

SEENEOH (hydrokinetic and tidal) in Bordeaux, France;

WavEC (wave and floating wind test centre) in Aguçadoura, Portugal.
Whilst not eligible for applications within the Blue-GIFT programme, the project consortium also includes three additional ocean energy test facilities who will support the project with technical expertise gained from running the Interreg North-West Europe FORESEA programme:
EMEC (wave and tidal) in Orkney, UK (Blue-GIFT lead partner);

SmartBay Ireland (wave and floating wind) from Galway, Ireland;

Centrale Nantes / SEM-REV (wave and floating wind) in Nantes, France.
Who can apply?
Blue-GIFT is open to any type of enterprise wishing to demonstrate ocean energy technologies being tested or validated.
How to apply?
Visit www.bluegift.eu for further information and supporting documentation, including:
Blue-GIFT Access – 2nd Call Text

Blue-GIFT Access – Call Rules and Conditions

Blue-GIFT Application Form
Test Site Access Coordinator:
Mairéad Elliott, SmartBay Ireland
Project Leader:
Ruari Brooker, European Marine Energy Centre (EMEC)